DataVault Express (Home and Student Backup Packages)
We were students once too and we know how frustrating it can be to work for hours and hours on a paper only to have all the work lost when your laptop battery dies. For that reason, we offer special pricing for home and student users for as low as
45 cents per day!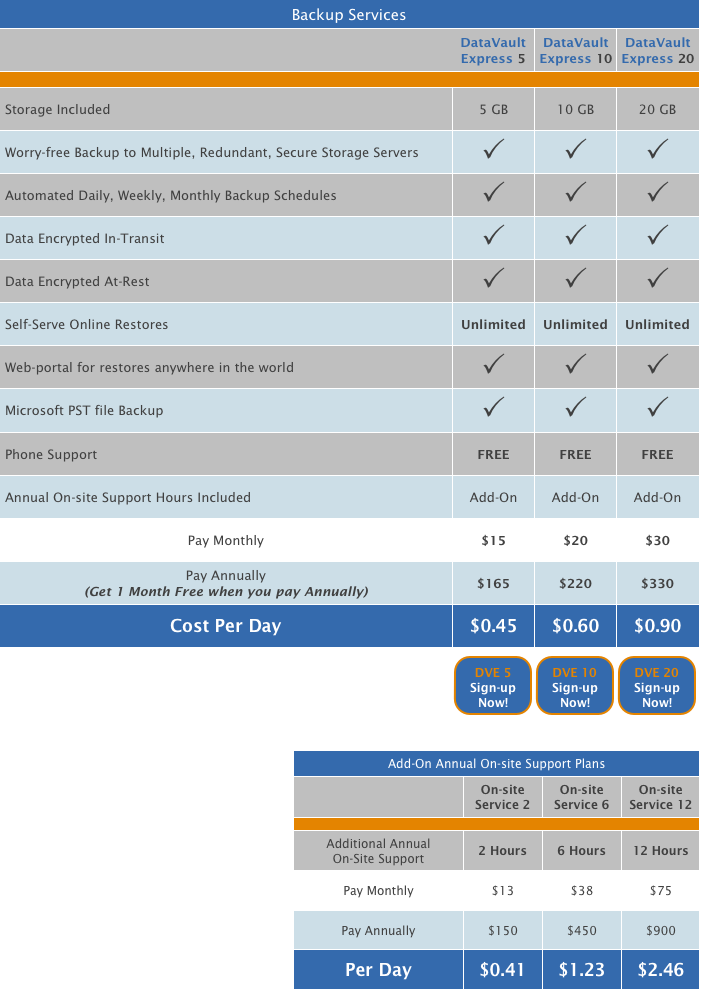 Note: For a detailed comparison between DataVault Express and DataVault Pro please go to Express versus Pro.


Per Machine Pricing
Zen
Dati
Backup Services are purchased on a per machine basis. Therefore if you have 2 computers in your home where one computer requires 3GB of storage space and the other requires 9, you would purchase one
DataVault Express
5
and one
DataVault Express
10
.

Add-On Annual Support Plans
Add-On Annual Support Plans can be used to have one of our technicians come to your home or dorm and help you with an emergency restore, teach you how to use the software or just help you test your backup sets to make sure that they include all your valuable data and are running efficiently. The experience of our technicians will help you make sure the right data is fully protected.
Customized Backup Packages
While our Home & Student Backup Packages have been designed to meet the needs of most individual and academic users, we can also tailor a package for your specific storage and support needs. To inquire about Customized Backup Packages, please
contact sales
.
Refund Policy
We are confident that you will be happy with our exceptional service. However, if for any reason you are unsatisfied with your purchase and are not able to resolve the issue with our
Customer Support
staff, your purchase is subject to our
14-day Money Back Guarantee
.
Backup your Business Computers Also
Do you have a computer at Work?
Do you have important data on a Server at your office?

We also offer extensive options to backup your Business/Corporate computers. Please check out our
DataVault Pro Business/Corporate Backup
packages for more information on protecting your valuable business data.


Ready to Get Started?
To start enjoying
Peace of Mind through Data Protection
simply...