Backup Statistics
We all know we should backup but just in case there was any doubt, here are some statistics we've come across:

Ontrack 2001 Cost of Downtime Survey
A hard drive crashes

every 15 seconds

2,000 laptops are stolen or lost every day

Re-building just 20MB of lost data could cost more than US$17,000 and take nearly three weeks to complete

46% said each hour of downtime would cost their companies up to $50,000, 28 percent said each hour would cost between $51,000 and $250,000, 18 percent said each hour would cost between $251,000 and $1 million, 8 percent said it would cost their companies more than $1million per hour.

At what point does loss of data threaten the survival of a business? 40% of companies in the Cost of Downtime Survey said 72 hours, 21% said 48 hours, 15% said 24 hours, 8% said 8 hours, 9% said 4 hours, 3% said 1 hour, 4% said within the hour.
Ontrack 2006 Survey
http://www.ontrackdatarecovery.com/data-recovery-press/index.aspx?getPressRelease=45158
40% of computer users classify their data as "priceless"

63 percent of people back up their critical data less than once a month – and 23 percent never perform backups

More than 60 percent of the people we surveyed have experienced data loss in the past

With 64 percent of people experiencing multiple computers crashes within the past year, doing backups monthly or even more infrequently leaves too much to chance.

64 percent of people [have experienced] multiple computer crashes within the past year

45 percent [of users] never bother to check if backups actually work

According to Ontrack's recovery operations, two gigabytes of data – equivalent to all of the songs on someone's iPod Nano, for example – is lost every minute of the day.

Only 17 percent of respondents said they store their backups offsite, with the majority indicating their backups are on media in the same room as the computer.
National Archives and Records Administration in Washington
2 out of every 5 firms never reopen after a major data loss

9 out of every 10

companies

(

93%) that lost their data center for 10 days or more due to a disaster filed for bankruptcy within one year of the disaster.

1 out of every 2

businesses (50%) that found themselves without data management for this same time period (10 days or more) filed for bankruptcy immediately.
Misc. Stats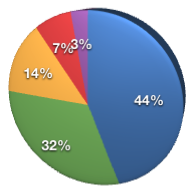 Leading Causes of Data Loss:
44% Hardware Malfunction

32% Human Error

14% Software Corruption

7% Computer Virus

3% Natural Disasters
Source: Ontrack Data Recovery, Inc., 2002. This data is based on actual data recoveries performed by Ontrack.
A residential fire occurs every 79 seconds.

Source: American Red Cross.
https://americanredcross.com/article/0,1072,0_507_2203,00.html
[An Estimated] 24.5 million windows XP machines crash every day

Source: PC Magazine.
http://www.pcmag.com/article2/0,4149,1210067,00.asp

1 MB of data is worth approximately $10,000

Source: The Cost of Lost Data - The importance of investing in that "ounce of prevention" 2003, David M. Smith, Ph.D

30% of all businesses that have a major fire go out of business within a year. 70% fail within five years.

Source: Home Office Computing Magazine


As much as 60% of corporate data resides unprotected on PC desktops and laptops.

Source: IDC analyst Cynthia Doyle, Business Continuity in 2002: It's Not Business as Usual, April 2002 (IDC #26976)


There are three main quantifiable costs associated with each incident of data loss: the cost of technical support in the recovery effort, lost productivity due to user downtime, and the cost associated with data that is permanently lost.

Source: The Costs of Data Loss, September 1999, David M. Smith, Ph.D., Pepperdine University.
http://gbr.pepperdine.edu/033/dataloss.html